Overview
Join one of the country's most respected urology group and enjoy a fulfilling and rewarding career as a physician.
The recruiting landscape for well-trained urology residents is competitive; however, The Urology Group has established a national reputation that makes our organization a premier choice for high-quality new or established urologists.
The Urology Group is a leading large urology practice, established in 1996, with robust integrated clinical and business operations. We provide about 65% of the urological care to the 2 million residents of the greater Cincinnati metropolitan region.
We have built strong relationships with most hospital systems in a competitive market without a single dominate player. The Urology Group has remained an independent healthcare provider by being nimble and forward thinking. This approach, as well as our investment in state-of-the-art technology, has allowed us to continually attract top talent from across the country.
Read about the evolution of our organization in our 2016 20th Anniversary Report.
Ambulatory Surgery Center
Our Norwood campus combines state-of-the-art equipment with a complete suite of urological health services all under one roof. It serves as the hub for urology specialization across the region.
Our 55,000-square-foot campus features:
Ambulatory surgery center
Physician offices
In-house laboratory specializing in urologic pathology
An imaging center that now includes 4k technology
CyberKnife SBRT suite for treating localized prostate cancer
The Urology Center earned the Joint Commission's Gold Seal of Approval for our ambulatory surgery center and our radiology services are accredited by the American College of Radiology (ACR).
The Center includes:
5 full hospital quality Siemen's equipped cystoscopy suites
Two open ORs
A fixed lithotripsy unit with built-in ultrasound
Bone density, body ultrasound and CT
A physician-led accredited clinical research department
A pathology department with a full time on site urological pathologist
A radiation oncology department which offers brachytherapy, IMRT, and stereotactic body radiosurgery
This centralized surgery center offers convenience for our patients across Greater Cincinnati, Northern Kentucky and Southeastern Indiana.
Fast Facts
Our patient-centered cutting-edge services are delivered by clinical thought leaders in advanced prostate cancer, robotic surgery, and other subspecialties.
We believe in the power of technology and constantly monitor and evaluates the latest cutting edge developments in healthcare. The Urology Group invests significantly in equipment and resources in order to offer the highest quality care that optimizes the patient experience and results.
Things to know about our Group:
30,000 patients treated annually – dominant market share for urology in our region
71% of the tri-state prostate cancer cases treated annually*
250+ patients treated annually with CyberKnife SBRT
15,000 outpatient procedures performed annually
2,000 prostate biopsies analyzed on-site annually
1,500 lithotripsy procedures performed annually
18 years of performing clinical trials
*Based on the incidence of prostate cancer in a four-county region as reported by the Centers for Disease Control (CDC) and the American Cancer Society in 2014.
Pathology Laboratory
Our nationally accredited lab at the Norwood Campus holds several significant distinctions. It processes blood tests, microbial cultures, DNA testing and anatomic pathology–as well as more than 2,000 prostate biopsies annually, the most in the region.
In the fall of 2014, the lab became one of the few in the nation to begin testing for specific biomarkers in prostate tissue that help guide a man's treatment decision based on his genetic makeup. We are also advancing urology research in the following areas:
Molecular microbiology: The Urology Group is a pioneer in the Greater Cincinnati region for using molecular microbiology to study urine cultures. Geared toward patients with chronic, recurring urine infections, and for whom previous antibiotics have not been affected, The Urology Group's laboratory team looks at the genetic make-up of a patient's urine sample. Studying the sample's DNA, pathologists can help the physician determine the best treatment protocol for each specific patient.
Genomic testing:Genomic testing, or personalized medicine, allows The Urology Group to identify if a patient who has been diagnosed with cancer is at low risk or high risk for developing a more aggressive form of cancer, based on the patient's genetic make-up. Low risk patients typically undergo "active surveillance," whereby they get tested regularly but receive no treatment for their cancer diagnosis. However, if genomic testing places the patient in the high-risk category, a physician may choose to treat the cancer or take a more aggressive form of surveillance. While genomic testing has helped breast cancer patients for nearly two decades, it's now an important tool for monitoring prostate cancer patients as well.
Genetic testing: The BRCA gene test is a blood test that uses a patient's DNA to identify how susceptible their genes are to develop to breast cancer. Long used among women, the BRCA test can also signal prostate cancer. If a man tests positive for the BRCA gene, his lifetime risk for prostate cancer is 15-25%, and he's at risk for developing a more aggressive/life-threatening cancer at a younger age. The Urology Group uses this test to determine whether or not genetic mutations might be passed on to family members.
With the lab onsite, results get processed quickly, so patients and their families spend less time waiting anxiously for news. Faster turnarounds also mean an earlier start for evaluating patient treatment options and determining the best course of action.
Living in Cincinnati
We understand that making a career move involves more than just the physician. Spouses and families of our physicians find opportunities for personal and professional growth within our community.
Greater Cincinnati and Northern Kentucky offer a sense of community and comfortable living at an appealing a cost of living.
Schools – Cincinnati offers a variety of school options, including nearly 50 public high schools and nearly 30 private high school in the communities in which our physicians work. Read more about top schools in the Cincinnati Magazine Top Schools Guide.
Employment – Cincinnati boasts the corporate offices for several Fortune 500 companies, including Procter & Gamble, Macy's, Kroger and General Electric. Read more in the Cincinnati Business Courier's Top Tri-State Employers issue.
Arts and Culture – From cutting edge to classical, the Cincinnati region is home to premier theater, music and dance, uncommon collections, and internationally known art events that will immerse, entertain and inspire. Our area is now a sought-after filming location for many Hollywood producers. We also feature more than 60 local brewers, located in nearly every neighborhood as well as our thriving, revitalized Over-the-Rhine district near downtown.
Visit Cincinnati USA Regional Chamber's Lifestyle in Cincinnati section for more on our great city.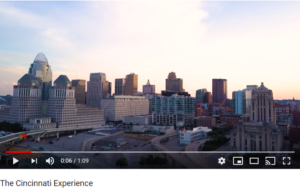 What Our Physicians Say
The best recommendations for working at The Urology Group come from our very own physicians. Here's why they and their families chose to join us.
Contact Us
We are looking for well-trained urology residents with a collaborative, clinically-innovative, and entrepreneurial spirit to join our independent practice. If you are interested learning about the physician culture at The Urology Group contact us.
Call:  Rebecca Rowland, (513) 841-74??
Click:  For open positions visit Link to Fidelis
Email:  Send your CV to Rebecca Rowland (rrowland@urologygroup.com)